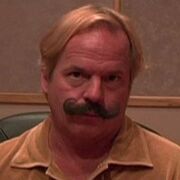 This article is a stub. Please add to it and make it better!
Peter Keefe was the executive producer of the original Voltron: Defender of the Universe TV series. He died May 27, 2010 of throat cancer in Rochester, N.Y. He was 57.[1]
He was also the producer of Saber Rider. [2][3]
He westernized the storylines and scripts and was responsible for toning down the violence. He even used his own voice for some of the characters. He directed the production of 24 new episodes of Voltron from scratch, after they ran out of footage to use from Beast King GoLion. [4]
References