This article is a stub. Please add to it and make it better!
Anthony Junior LoCascio, better known as A.J. LoCascio, is the voice actor of Lotor. He is not only a voice actor, but is also an actor, artist, film director and film producer. LoCascio is known for his role as Marty McFly from Back to the Future: The Game (2010-2011), Thunk from Dawn of the Croods (2015-2017), Emmet Brickowski from The Lego Movie 2 Videogame (2019), as well as his impressions of various celebrities.
Voice Roles
Trivia
LoCascio posts many of his drawings on social media and offers art for sale on his Redbubble.
LoCascio was gifted artwork of Lotor and a letter from Lotor by series staff.[1] The letter has yet to be shown.
He has a dog named Ducky with her own Instagram.
During New York Comic Con 2017, his first official appearance at a panel for Voltron, LoCascio was trapped in an elevator for several minutes with panel crew along with Josh Keaton, Kimberly Brooks, Joaquim Dos Santos, and Lauren Montgomery right as the panel was scheduled to start.[2][3][4]
LoCascio has referred to Steven Yeun as a "Yeunicorn", after Josh Keaton joked about Yeun being a unicorn because of his limited availability for Voltron events.[5]
The origin of his name "AJ" as "Anthony Junior" was revealed through a guessing game on Twitter.[6] He would prefer to not be called "Junior".
External Links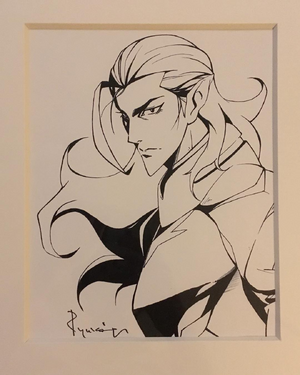 References